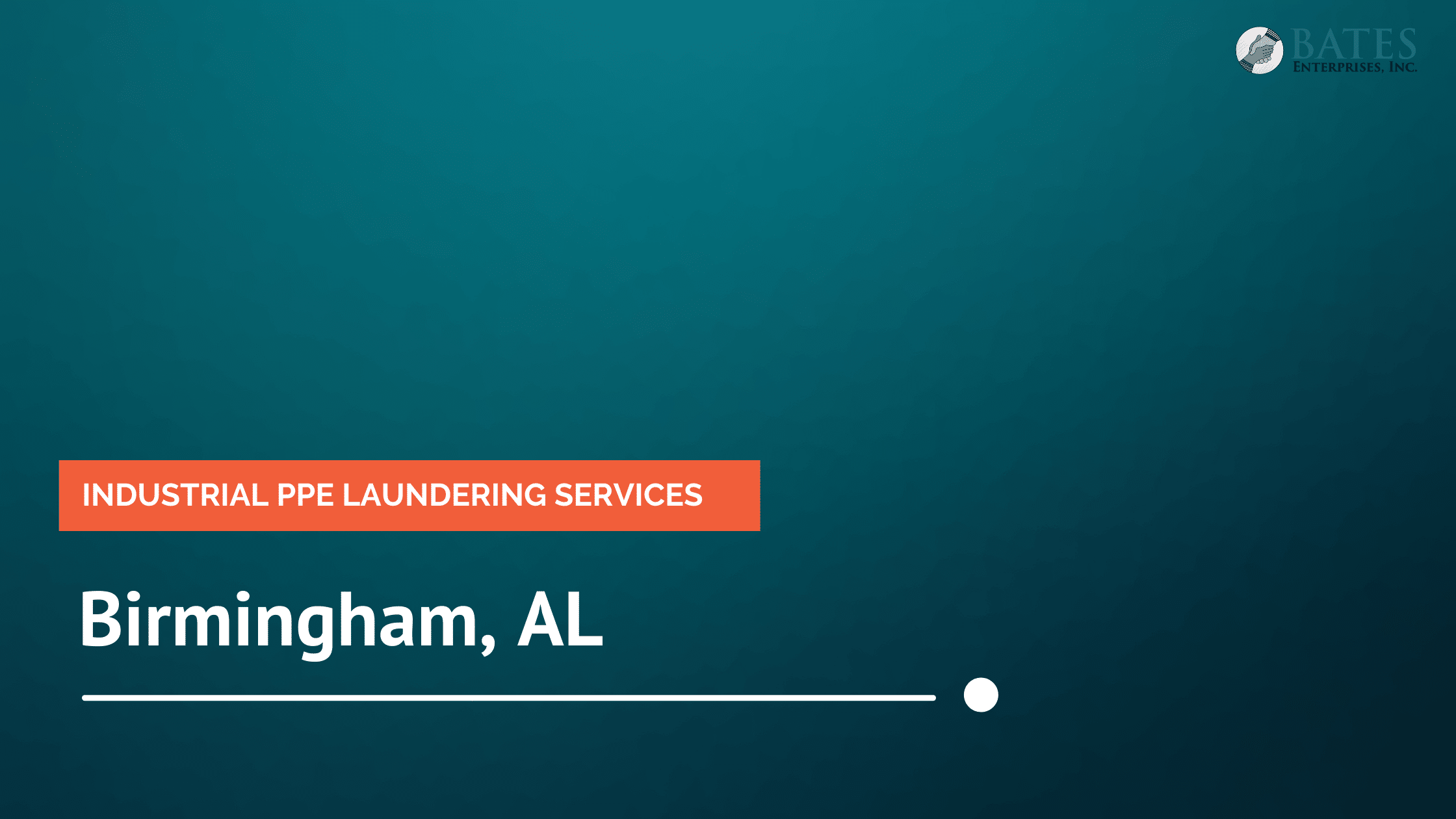 Industrial PPE Laundering Services in Birmingham, Alabama
Birmingham is Alabama's thriving manufacturing and economic hub. Today, this dynamic city is home to Fortune 500 and Fortune 1000 companies, alongside many steel production, medical, and biotechnology global giants. As the city continues to receive multi-million investments, Birmingham has become a breeding ground for new companies. 
At the same time, the competition has never been fiercer! And, it has never been more critical for Birmingham, AL companies to improve their bottom line, review their operational framework, and gain a competitive edge. 
Given the high cost of gear and the importance of protecting every employee from work-related accidents, custom industrial PPE laundering services are the first step your company needs to take. 
Bates Enterprises's Custom PPE Laundering Services in Birmingham, Alabama: Our Promise
Industrial PPE laundering, repair, and recycling services that are perfectly customized to your company's needs. We can help you improve your company's bottom line, reduce the amount of waste that ends up in landfills, and enhance employee protection. 
Learn about what to expect from Bates Enterprises' tailored PPE laundering services in Birmingham, Alabama.
Proprietary, Clinically-Proven 4-Step Formulas
As the first signs of dirt or wear become noticeable, managers tend to discard used PPE materials or utilize low-quality laundering services. We have spent over two decades at Bates Enterprises perfecting a proprietary, clinically-proven 4-step formula that cleans and sanitizes each PPE item above the required standards. 
Our experienced team can customize the washing cycle to the type of PPE your company uses. Our industrial PPE laundering services can extend the lifespan of your protective gear – no matter whether you have invested in Kevlar, PVC, Twaron, or Nitrile items.
25 Years Of Experience In PPE Laundering and Recycling
Founded in 1995, Bates Enterprises represents excellence in PPE laundering, recycling, and repair services in the Birmingham, AL area and across the country. Today, our mission is to help companies improve internal safety standards while protecting the environment and enhancing their bottom line. 
Valuable PPE Inventory Insights
PPE can represent a high cost for any business. However, industrial PPE laundering services can help you save up to 85% on the price of new PPE items. And, not just by reducing the number of PPE items bought! 
Here's how Bates Enterprises can help your company improve its bottom line:
Industrial cleaning processes increase your PPE items' lifespan.

Custom services to improve the comfort level provided by PPE.

Repair services to keep PPE items in perfect conditions for longer.

Monthly itemized inventory reports – so you can always keep up to date with PPE conditions, availability, and costs.
Custom Washing Cycles To Fit Your Company's Needs
Each company is unique, and we know how important it is to find the perfect balance between PPE supply, demand, availability, and quality. That is why at Bates Enterprises, we offer fully customizable PPE laundering service packages for companies in Birmingham, Alabama. So, you can gain better control over your budget without compromising your employees' safety. 
Industrial PPE Laundering Services Tailored to Your Company's Needs
The largest employers operating in the Birmingham, AL area have over 10000 employees! Protecting every single one of them from workplace risks is paramount. The PPE you choose can make a difference in their level of safety. 
Our 25 years of experience in the PPE laundering field, proprietary washing formulas, and custom laundering packages can help you in your mission to reduce your environmental impact, protect your workers, and improve your bottom line. 
Discover our range of PPE laundering services in Birmingham, Alabama
Whether your company operates in steel production, manufacturing, or biotechnologies, we have the laundering service package for your needs. 
Explore our full range of industrial laundering services in Birmingham, Alabama, by calling us at (256) 378-6118. Alternatively, you can request a custom quote for your company here.