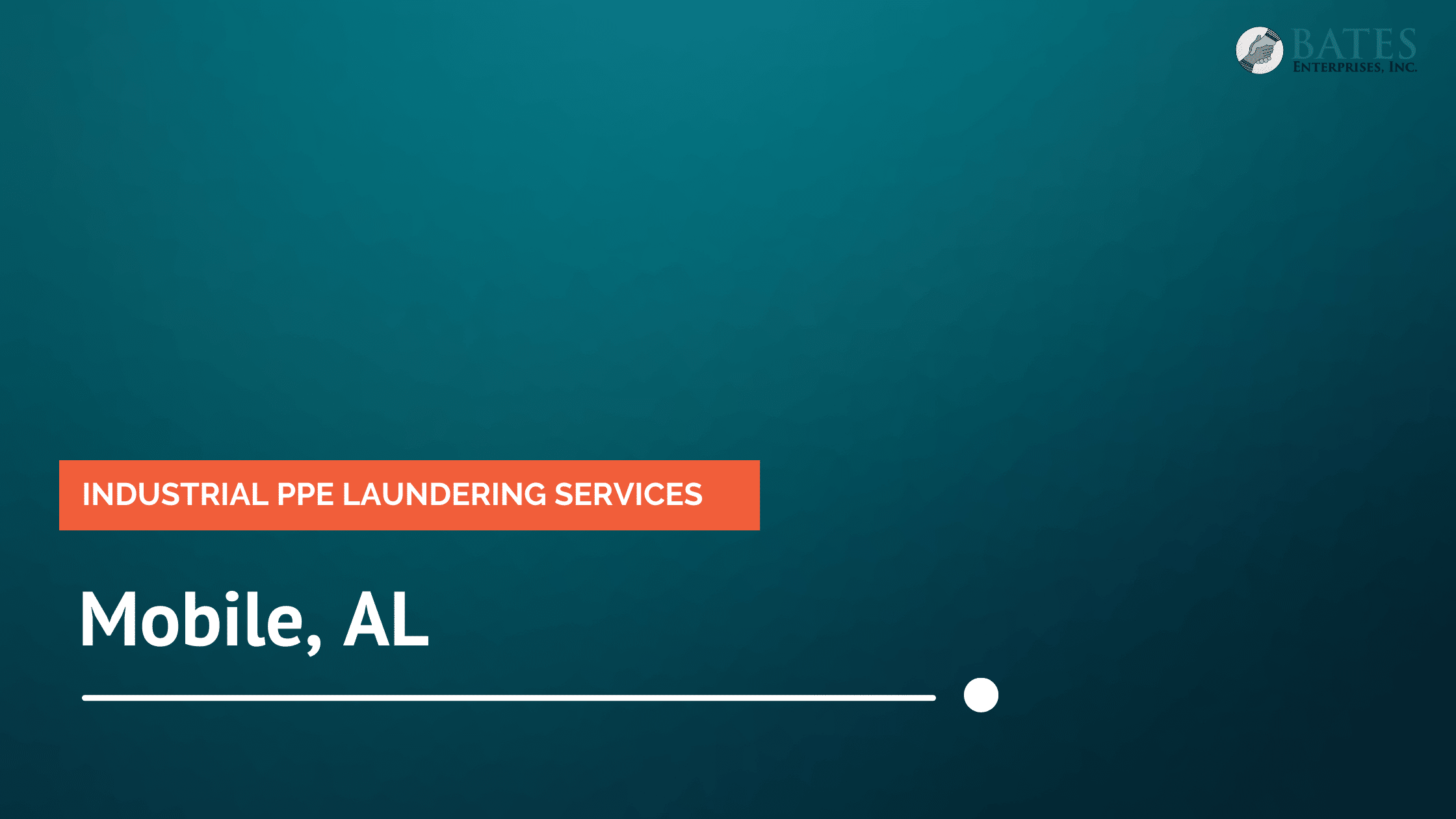 Industrial PPE Laundering Services in Mobile, Alabama
Bates Enterprises in Mobile, Alabama, stands as a leading expert in industrial personal protective equipment (PPE) laundering. Our unwavering commitment to safety, hygienic practices, and convenience makes us the top choice for all your professional laundering requirements.
As the city's top-rated and best laundering service, Bates Enterprises in Mobile, Alabama, is your go-to PPE laundering destination. We understand that having clean and well-maintained PPE is crucial for business reasons and industrial plant safety. Our advanced laundry technology is designed to effectively clean, sanitize, and extend the lifespan of your industrial PPE.
With our expertise and resources, we can handle a wide range of protective gear, whether gloves, flame-resistant clothing, high-visibility attire, or specialized outfits.
Our Expert PPE Laundering Services
To address the varied needs for industrial laundering services in the Mobile, Alabama industries, we provide a full range of industrial personal protective equipment (PPE) laundering services using the best industrial recycler. 
Our state-of-the-art PPE laundering services include:
Modern Cleaning Methods
Our laundry procedure uses cutting-edge methods to clean your personal protective equipment (PPE) of dirt, filth, and pollutants. We know your equipment may be exposed to various contaminants in industrial settings that could reduce its efficacy. Our exhaustive cleaning procedures return your personal protective equipment (PPE) to its initial condition while assuring maximum protection.
Sanitation and Disinfection
Aside from cleaning, the health of our staff is a significant focus. We adhere to the highest industry standards for sanitizing and disinfecting, eliminating germs and harmful substances that might accumulate on personal protective equipment (PPE). This is particularly crucial given the ongoing global health concerns.
Quality Inspection
We conduct thorough examinations as part of our quality control procedures to prevent flaws, gashes, or other problems with your PPE. Beforehand discovery of these problems helps you stay safe and ensures the life of your outfit.
The Bates Process
Assessment: Prioritizing Your Protection
At Bates Enterprises, we take your safety seriously. Our PPE laundering process begins with a meticulous assessment of your personal protective equipment's condition. We understand that different environments and tasks can affect the wear and tear of your gear. By conducting a thorough evaluation, we gather crucial insights into the specific cleaning and maintenance needs of your PPE. This step allows us to create a tailored laundering strategy that guarantees optimal results.
Collection: Convenient and Efficient
Once we've assessed your PPE, we will take care of the logistics. Our collection service streamlines the process, making it convenient for you. We arrange the pickup of your used protective equipment, ensuring that it reaches our advanced facility. This step minimizes any disruption to your operations and maximizes efficiency.
Laundering: Cutting-Edge Technology for Superior Cleanliness
Our commitment to your safety drives us to employ state-of-the-art laundry technology. Our advanced equipment is designed to deliver cleanliness and thorough sanitization. We understand that maintaining the integrity of your PPE materials is crucial for their effectiveness. Our laundering process targets visible dirt and contaminants that may not be easily detectable, ensuring a comprehensive clean that meets the highest standards.
Inspection: Rigorous Quality Control
Before your PPE is returned to you, we subject it to a rigorous inspection. Our dedicated team meticulously examines each piece to ensure it meets our stringent quality norms. We understand that compromised PPE can pose significant risks. Therefore, we go the extra mile to verify that your gear is free from defects, damage, or wear that could compromise its protective capabilities. This commitment to quality control underscores our dedication to providing you with PPE that you can rely on.
7 Reasons to Choose Bates for PPE Industrial Laundering
1. Contemporary Facility
Our up-to-date laundry facility is ready to take care of a range of industrial personal protective equipment, whether tough workwear or delicate safety gear. Our facility is equipped with the latest tools and technology, ensuring thorough cleaning and disinfection while also prolonging the lifespan of your gear.
2. Expert Maneuvers
Our experienced team is well-versed in the specific needs of various types of industrial personal protective equipment (PPE). Before laundering, each item undergoes a thorough assessment, allowing us to effectively handle specific stains, contaminants, and wear and tear. This includes items like gloves, coveralls, helmets, and more.
3. Health First
We're committed to maintaining the highest levels of cleanliness and hygiene. Our cleaning process eliminates dirt, grease, chemicals, and other contaminants that accumulate on personal protective equipment (PPE) during demanding work. This enhances safety, prevents the buildup of allergens, and reduces potential health risks.
4. Individualized Solutions
We provide specialized laundry solutions to match your specific needs, understanding that different industries have diverse personal protective equipment (PPE) requirements. Our services can be tailored to your needs, whether you're in manufacturing, construction, oil and gas, or any other industry.
5. Eco-Friendly Methods
In addition to using eco-friendly personal protective equipment (PPE), we are committed to protecting the environment. We employ energy-efficient equipment, eco-friendly cleaning products, and water-saving methods to minimize our environmental impact. By choosing our services, you're not only safeguarding your workforce but also the environment.
6. Comfort and Dependability
Time is crucial in any industrial process. Our streamlined procedures ensure quick turnaround times while maintaining high quality. We offer flexible scheduling options to minimize downtime and ensure your team's personal protective equipment (PPE) is always ready when needed.
7. Assurance of Compliance and Safety
With our laundry services, you can be confident that your personal protective equipment (PPE) meets or exceeds industry standards. We keep meticulous records of every item's maintenance and cleaning, providing you with a reliable trail of compliance.
8. Collaboration for Success
When you choose Bates Enterprises, you're not just a client seeking industrial personal protective equipment (PPE) laundry services. We work alongside you to understand your specific challenges and create solutions that enhance the safety and well-being of your staff. Your success is our success, and we take pride in playing a role in it.
Experience the Bates Difference
At Bates Enterprises in Mobile, Alabama, we're not just a service provider–we're your partners in creating a safer workplace. Our commitment to excellence is at the heart of everything we do. We tailor our services to fit your needs because we understand that each industry has its own unique challenges and needs. Your industrial PPE will be thoroughly cleaned and restored to its best condition at our state-of-the-art facility.
Our PPE laundering process is more than just a routine—it's a comprehensive approach to safeguarding your well-being. From the initial assessment to the final inspection, we prioritize your safety, convenience, and peace of mind. Our mission is to ensure that your PPE remains in top-notch condition, ready to provide the protection you need in demanding environments. 
Choose Bates Enterprises as your trusted partner in PPE care, and experience a higher standard of cleanliness, sanitization, and quality assurance.
Discover our Range of PPE Laundering Services in Mobile, Alabama
Whether your company operates in steel production, manufacturing, or biotechnologies, we have the PPE laundering service package for your needs. 
Explore our full range of PPE laundering services in Mobile, Alabama, by calling us at (256) 378-6118. Alternatively, you can request a custom quote for your company here.