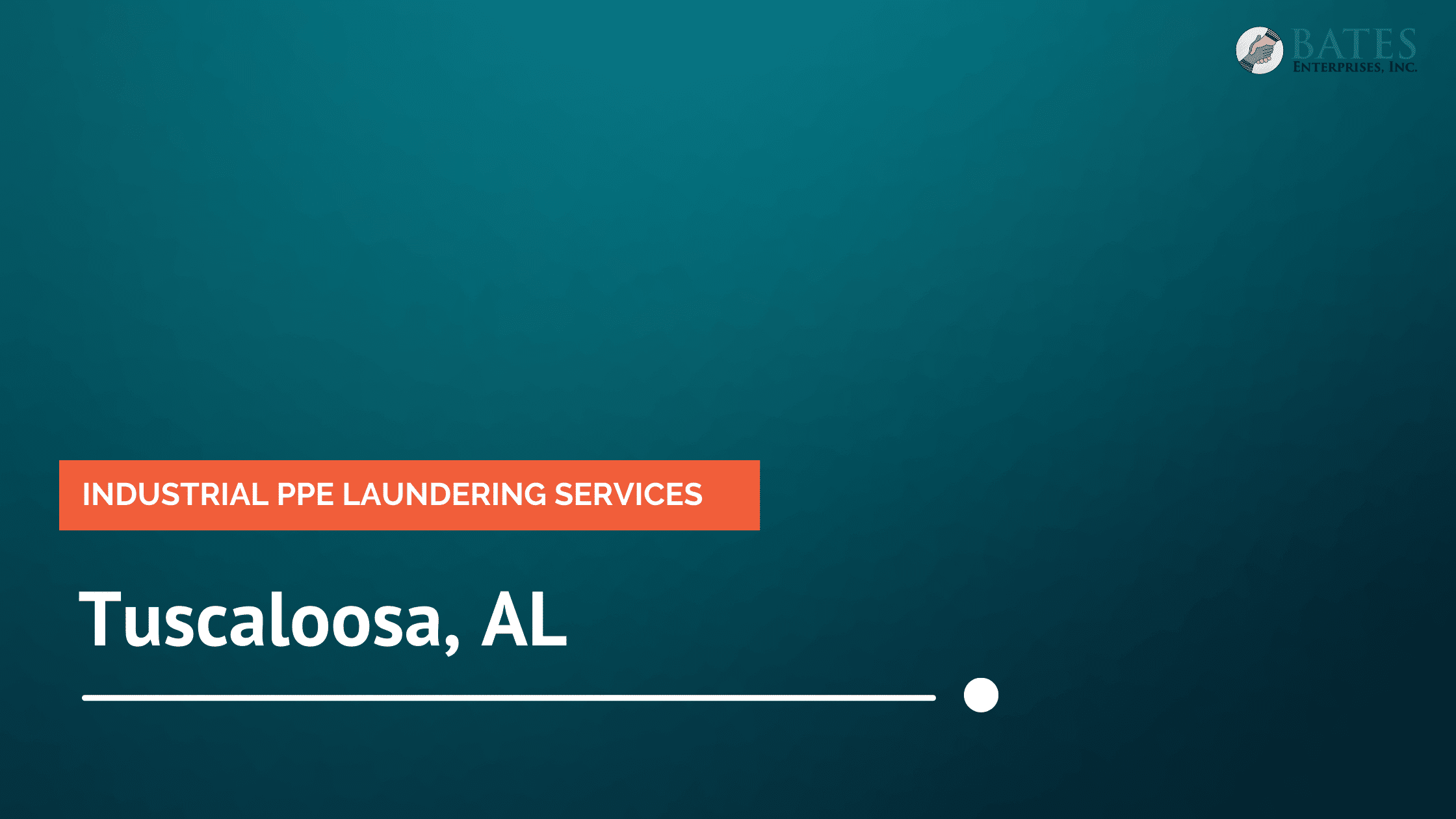 Industrial PPE Laundering Services in Tuscaloosa, Alabama
Your workers' safety and well-being are pivotal in today's fast-paced industrial environment. As a responsible leader, you might have often wondered how a PPE laundering service can streamline your operations and employee safety.
At Bates Enterprises, our expert industrial PPE laundering services in Tuscaloosa can assist you in achieving just that. We provide a reliable solution that enhances worker safety and boosts the efficiency of your business operations. We understand that every workplace has its own challenges and safety requirements. Our services exceed the ordinary by offering specialized laundering for various types of personal protective equipment (PPE), ensuring your team has access to clean, hygienic, and compliant gear.
The demand for reliable, professional laundering services remains strong in Tuscaloosa, Alabama, thanks to the thriving industries fueling the area's growth. We take pride in playing a vital role in ensuring plant safety and assisting companies in their journey toward excellence.
Our Commitment to Excellence
At Bates Enterprises in Tuscaloosa, Alabama, we're here to provide the answer to your search for nearby laundering services. We prioritize quality above all when it comes to industrial personal protective equipment (PPE) laundry. That's why we partner with the best industrial recycler. Our cutting-edge facility near Tuscaloosa, Alabama, has the latest technology.
Every piece of personal protective equipment (PPE) entrusted to us undergoes thorough cleaning, sanitization, and maintenance following industry best practices. Our team of professionals collaborates closely with you to customize our laundry services to meet your specific needs, recognizing that each business has unique personal protective equipment (PPE) requirements.
Unmatched Experience & Customized Services
With Bates Enterprises, you will receive state-of-the-art technologies, attentive customer service, and the best PPE laundering in the country. With our PPE laundering services, you will always experience the following:
High-Quality PPE Sanitization
As an industrial recycler and launderer near Tuscaloosa, Alabama, we're equipped to ensure thorough cleaning and sanitization for a wide variety of personal protective equipment (PPE) items. We understand the importance of maintaining a high level of cleanliness in industrial settings. As a result, we have developed precise methods to remove dirt and contaminants while preserving the quality of the PPE gear.
Tailored Results for Different Sectors
We take pride in customizing our services to the unique personal protective equipment (PPE) requirements of the individual sectors we serve. Whether your company works with dangerous chemicals, large ministries, or delicate medical outfits, our experts will develop a personal protective equipment (PPE) laundry plan considering your particular conditions. We consider unique accouterments, rules, and operation patterns to ensure your labor force has impeccably clean outfits.
Sustainable Practices
We're devoted to sustainability, and this dedication is shown in our personal protective equipment (PPE) laundering procedures. We reduce our environmental impact while achieving excellent results with our energy-effective ministry, environmentally friendly cleansers, and water-saving styles. By exercising our services, you positively impact the terrain and give your staff a safer working space.
Quick Turnaround
We understand the importance of keeping your pool's personal protective equipment (PPE) clean. Your equipment will be cleaned and sterilized promptly, ensuring minimal disruption to your operations. This is made possible by our efficient procedures and effective logistics.
Quality Control
We adhere rigorously to our quality control procedures and don't cut corners when it comes to the security of your labor force. We precisely audit every item of personal protective equipment (PPE) in the order, assuring you that your team is getting only the best quality.

Why Choose Our Industrial PPE Laundering Services?
In a world where workplace safety and hygiene are paramount, our distinguished services stand as a beacon of reliability and excellence. With a proven track record of delivering pristine and properly maintained Personal Protective Equipment (PPE), we take pride in safeguarding your workforce against hazards while ensuring uncompromised comfort. 
The compelling reasons why choosing our Industrial PPE Laundering Services include our:
Tailored Laundering Programs
We understand that each industry has its own specific personal protective equipment (PPE) needs. That's why we offer specialized washing programs tailored to your unique requirements. Whether you need your gear cleaned weekly, biweekly, or yearly, we can create a schedule that perfectly aligns with your business.
Advanced Cleaning Methods
We go over and beyond our laundry procedures. We use cutting-edge techniques, including pre-treatment, thorough cleaning, disinfection, and strict quality checks. By doing this, you can be sure that your personal protective equipment (PPE) is fully free of pollutants, clean, and aseptic.
Compliance with Industry Regulations & Conditions
Understanding industry regulations and safety standards can be complex. Our team is well-versed in these requirements, ensuring that your laundered personal protective equipment (PPE) meets or exceeds all relevant standards.
Environmental Stewardship
We take seriously our responsibility to cover the environment. Our laundry procedures use as little water and energy as possible, and we choose eco-friendly cleansers without immolating cleanliness.
Convenience and Responsibility
Managing PPE maintenance and laundering schedules can be time-consuming. When you partner with us, you can streamline this process and focus on your core business. We'll take care of your personal protective equipment (PPE) laundering needs consistently and reliably.
Emergency Services 
In unforeseen situations, quick responses are crucial. That's why we offer emergency professional laundering services for personal protective equipment (PPE). If you require urgent equipment cleaning to ensure your workforce's safety, we've got you covered.
Bates Enterprises: A Trusted Partner in Your Success
When your employees' well-being and your business's success go hand in hand, Bates Enterprises is your steadfast partner in promoting safety, comfort, and compliance. Our Industrial PPE Laundering Services exemplify a dedication to excellence that sets us apart. 
By entrusting us with the responsibility of maintaining your protective gear, you're not only ensuring the highest standards of cleanliness and safety but also freeing up valuable time and resources for your core operations. Make the choice that elevates your workplace safety to new heights. 
Reach out to Bates Enterprises today and let us collaborate in creating a safer, more efficient, and thriving industrial environment. Your employees deserve it, and your business deserves it.
Take the First Step: Partner with Bates Enterprises 
Whether your company operates in steel production, manufacturing, or biotechnologies, we have the PPE laundering service package for your needs. 
Explore our full range of PPE laundering and recycling services in Tuscaloosa, Alabama, by calling us at (256) 378-6118. Alternatively, you can request a custom quote for your company here.