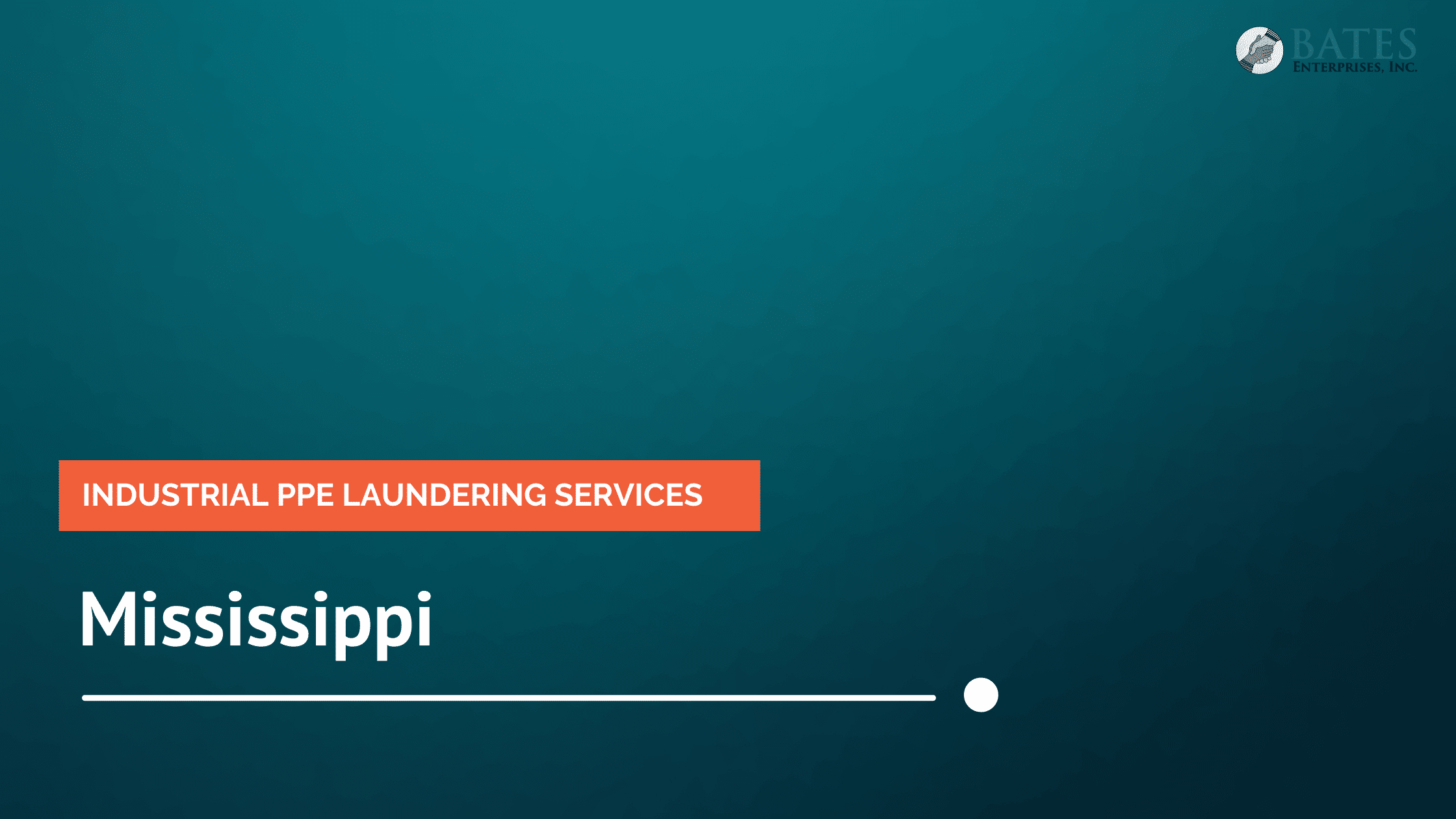 PPE Industrial Laundering in Mississippi
Carrying out industrial PPE laundering in-house is challenging. You must invest in equipment, processes, and staff who understand how to wash items to a high standard professionally. As a result, the cost of implementation can be tremendous. 
At Bates Enterprises, we are here to help. We have many years of experience working with thousands of partner businesses and organizations to deliver freshly-laundered and exceptionally clean PPE where and when you need it. 
What's more, you can improve your profitability by outsourcing to us. Because we operate at scale, we can slash per-item costs, reducing your overall PPE lifecycle costs. 
Industrial Laundering Services
At Bates Enterprises, we understand that every company and industry has different PPE laundering requirements. Our goal is to meet your organization's needs while cutting the environmental impact of our services and keeping employees safe. 
We launder a vast array of materials in Mississippi:
 Items we launder:
Kevlar

Twaron

Dyneema

PVC

Urethane / HPPE

Nitrile

Impact Gloves

Rugs

Robot Covers

Protective & FR Clothing

Absorbents

Sealer Rags & Gloves

Leather

Cotton

Harnesses

Sleeves

Welding Jackets

Chaps

Hi-Vis

Microfiber Rags

Rags

Safety Vests

Paint Gloves

Mop Heads



Our PPE industrial laundering services are unique and designed to meet your enterprise's specific requirements. We operate a wash cycle bespoke to your needs. Our processes allow you to achieve a cleaner finish than conventional laundering methods. 
While most launderers use standard detergent formulations regardless of what they are cleaning, we adapt our processes to your material needs. We never use oxidizers to make fabrics look cleaner because they damage fibers, leading to higher long-term replacement costs. We also ensure that our processes genuinely clean items. The discovery of soiling can potentially force you to shut down entire production lines, leading to more significant losses. 
We care about the environment, too. All our processes exceed CDC industrial PPE laundering standards. After washing, we separate items into different containers to prevent cross-contamination. 
Start Your Free Trial With Bates Enterprises Today
By using Bates Enterprises services, you could save up to 85 percent on total PPE costs. Our goal is to help your firm improve margins and achieve higher profitability. 
To back this up, we provide monthly itemized reports showing you how much money you have saved. Our detailed breakdown lets you cross-check our figures with your own and include trend lines, PPE lifespan information, and resources. We can also clean PPE items by department, saving additional paperwork at your end. 
Over the years, thousands of customers have entrusted us to manage their PPE industrial laundering requirements in Mississippi. We have more than 8,000 satisfied clients on our books. And while our services have an upfront cost, you save long-term by no longer having to purchase PPE brand new. 
Is it time that you improved the cleanliness of your PPE while also protecting workers and the environment?
If so, contact us today for a free trial, and learn what we can do for you!