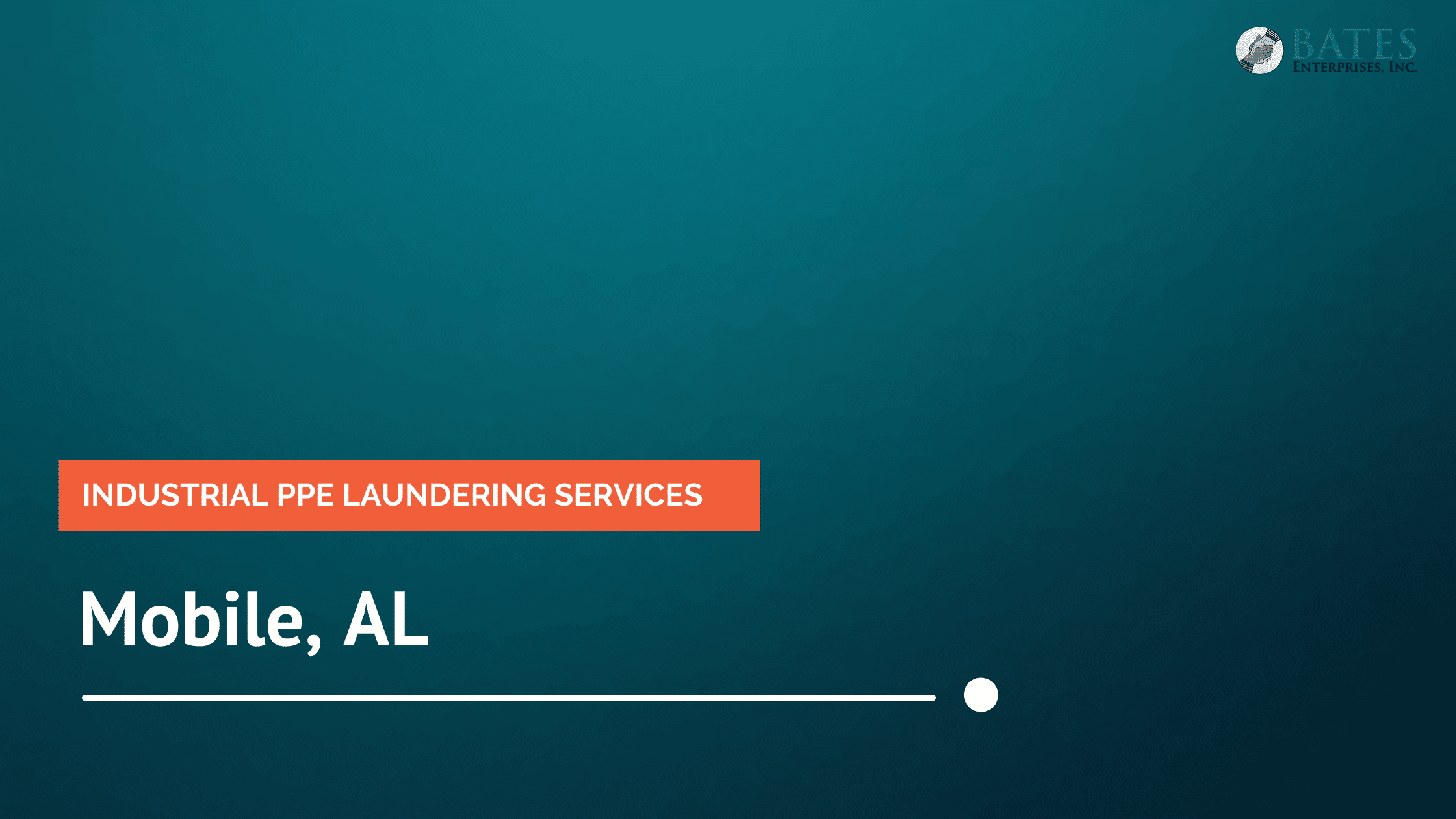 Industrial Laundering in Mobile, Alabama
Since the early 1980s, Mobile, Alabama, has become a hub for new enterprises – and today, the city hosts a cluster of over 200 successful businesses. Whether your business operates in the oil and gas industry, aviation, healthcare, chemical fields, or steel manufacturing, you know that your employees represent your company's most valuable asset. 
Bates Enterprises is here to help you protect them through state-of-the-art industrial PPE laundering services that we fully customize to meet your company's needs. So, you can rest assured that your personnel will always have high-quality protective equipment available while also protecting the environment and saving your company's money. 
What To Expect From Our Industrial PPE Laundering Services 
The right PPE recycling and laundering packages for your Mobile, Alabama business can help you save money, protect your employees, and operate in a more environmentally-conscious way. Here is what you should expect when partnering with Bates Enterprises. 
Unique Industrial Laundering Formulas To Deliver Unparalleled Cleanliness Standards
For a company, the well-being and safety of its employees are of paramount importance. In turn, it is essential to provide each worker with suitable, clean, and high-quality personal protective equipment. Yet, most companies dispose of used PPE or outsource cheap, below-standard laundering services. 
While, of course, it is essential to keep in mind a company's budget, there is no compromising on your Mobile team's safety. Luckily, you don't have to pick one of these two options! Here at Bates Enterprises, we have developed a clinically-proven formula to deliver levels of cleanliness that exceed industry standards while extending the lifetime of each PPE item. 
Customized Washing Cycles That Fit Your Company's Needs
Each company operating in Mobile, Alabama, is unique. At Bates Enterprises, we understand that you might have strict budget requirements and specific PPE needs. That is why we offer entirely customized industrial laundering and recycling services designed to fit your needs. 
By opting for high-standard laundering services, you can save up to 85% on the cost of new PPE. With our customized washing cycles, you can always be sure to have the necessary PPE items for your day-to-day operations.
PPE Recycling Services Designed With a Triple-Bottom Line-In Mind
A business's bottom line certainly focuses on profits, but it also impacts the local communities and environment. Since its humble beginnings over 25 years ago, Bates Enterprises has focused on delivering laundering and recycling services that can limit a company's environmental impact while improving its bottom line and keeping each worker safe.
Discover the Customized Industrial PPE Laundering Package For Your Company's Needs
From aviation to chemical and healthcare, hundreds of companies have found their home in Mobile, Alabama. While the city is a thriving breeding ground for successful enterprises, the competition is as fierce as ever. 
With fully-customized, industrial PPE laundering services, you can improve your business's bottom line and benefit from a competitive edge while safeguarding your employees. 
Bates Enterprises Tackles All Industrial PPE Laundering Challenges 
Bates Enterprises is committed to helping you find a PPE laundering solution that meets your highest expectations. Discover the best industrial PPE laundering packages for your company by calling us at (256) 378-6118 or requesting a quote here.