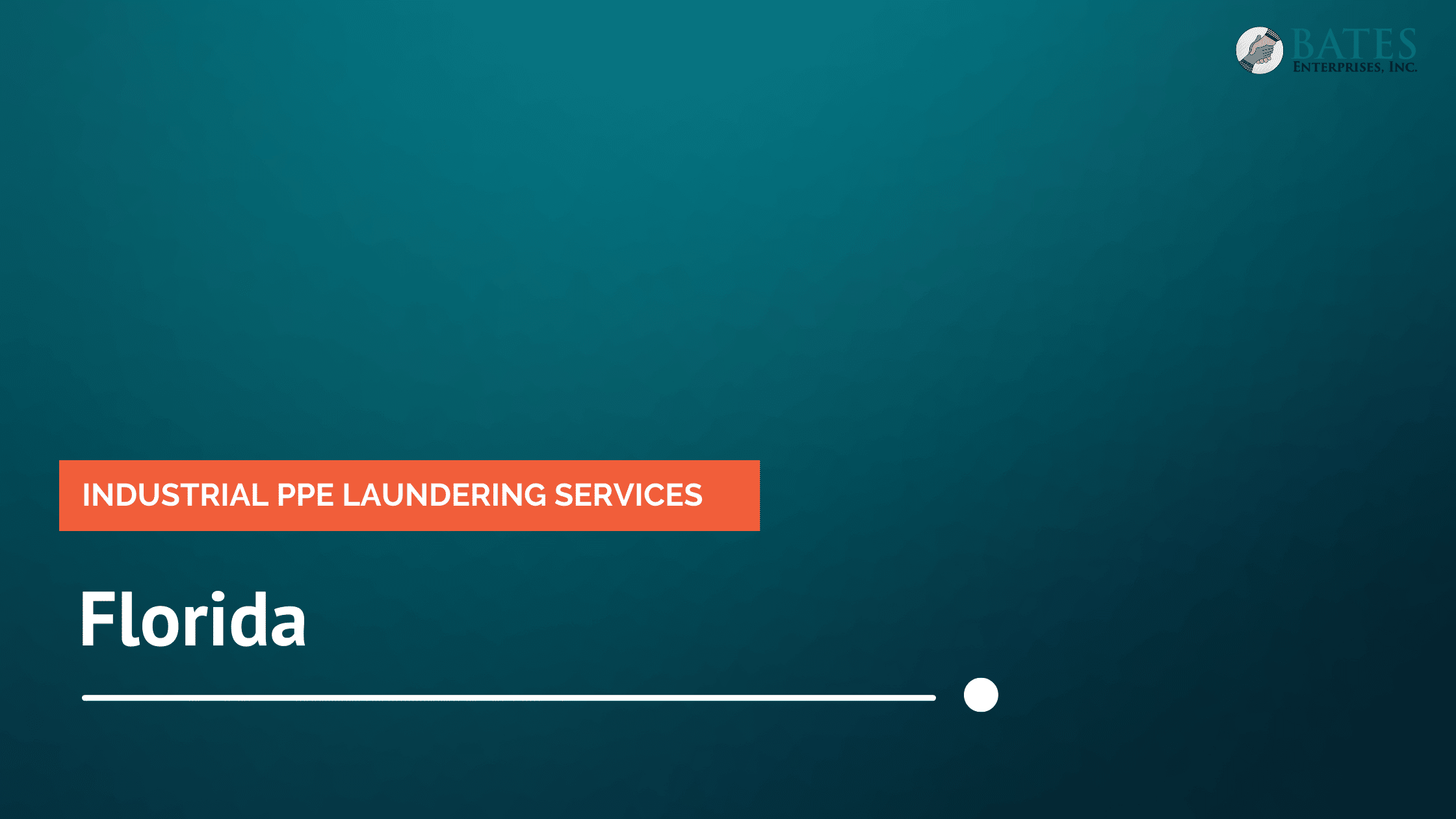 Industrial PPE Laundering Services in Florida
PPE needs regular washing to keep it hygienic and wearable. An industrial laundering service is essential when you need it to be frequently washed in bulk and returned quickly.
Bates Enterprises delivers PPE industrial laundering services in Florida for all businesses that need to care for their personal protective equipment. We remove the burden of doing your laundry in-house, which can be time-consuming and require a lot of space. With our years of experience in the industry, we can provide customized services for your needs.
Contact us today to discuss your requirements when you need industrial laundering services that won't let you down.
Expert PPE Industrial Laundering Services

At Bates Enterprises, we have been laundering PPE since 1995. We work with businesses across various industries to launder their PPE to their requirements. Each client is approached individually to ensure their unique needs and challenges are answered by our expert team. We have experience cleaning many different materials and garments, allowing us to easily handle a vast range of PPE.
We launder:
Kevlar

Twaron

Dyneema

PVC

Urethane / HPPE

Nitrile

Impact Gloves

Rugs

Robot Covers

Protective & FR Clothing

Absorbents

Sealer Rags & Gloves

Leather

Cotton

Harnesses

Sleeves

Welding Jackets

Chaps

Hi-Vis

Microfiber Rags

Rags

Safety Vests

Paint Gloves

Mop Heads




When you choose us to launder your PPE, you benefit in numerous ways. Saving time and money are two significant reasons to outsource your PPE laundering to us. You can avoid investing in your own space and equipment to launder your PPE, letting us handle it all instead. We provide quick service so you can receive your clean PPE back as soon as possible.
Using our industrial laundering service means we'll take care of the whole process for you. From administration to pick up and delivery, we will take it all out of your hands. You save time and resources by outsourcing your PPE laundering with Bates Enterprises.
Contact Us for Your Free Trial Today
Bates Enterprises is the right choice for your company if you're looking for affordable industrial laundering services. We take a number of steps to keep our services cost-effective and ensure they make financial sense for you. You can save up to 85% on your PPE laundering costs when you use our services because we take care of your items. We separate laundered items to create custom solutions for all of our clients and prevent cross-contamination between items. Our monthly itemized tracking reports also show you how much you're saving, so it's clear to see.
Choosing our laundering services will also help you to make your business greener. Our CDC-approved processes not only help to protect the environment but also help your items to last longer. You save even more money by protecting your PPE.
We have worked with thousands of companies to provide essential industrial laundering services in Florida and beyond. Contact us to start your free trial and discuss your needs.
Bates Enterprises: The Premier Choice For PPE Laundering & Recycling
Recycling PPE saves your company money and even improves your green image. Bates Enterprises can help you get your PPE recycling right. Call us today or fill in our online form to get in touch.
If you'd like to set up a customized PPE laundering program, contact us at (256) 596-8667 or request a quote online.