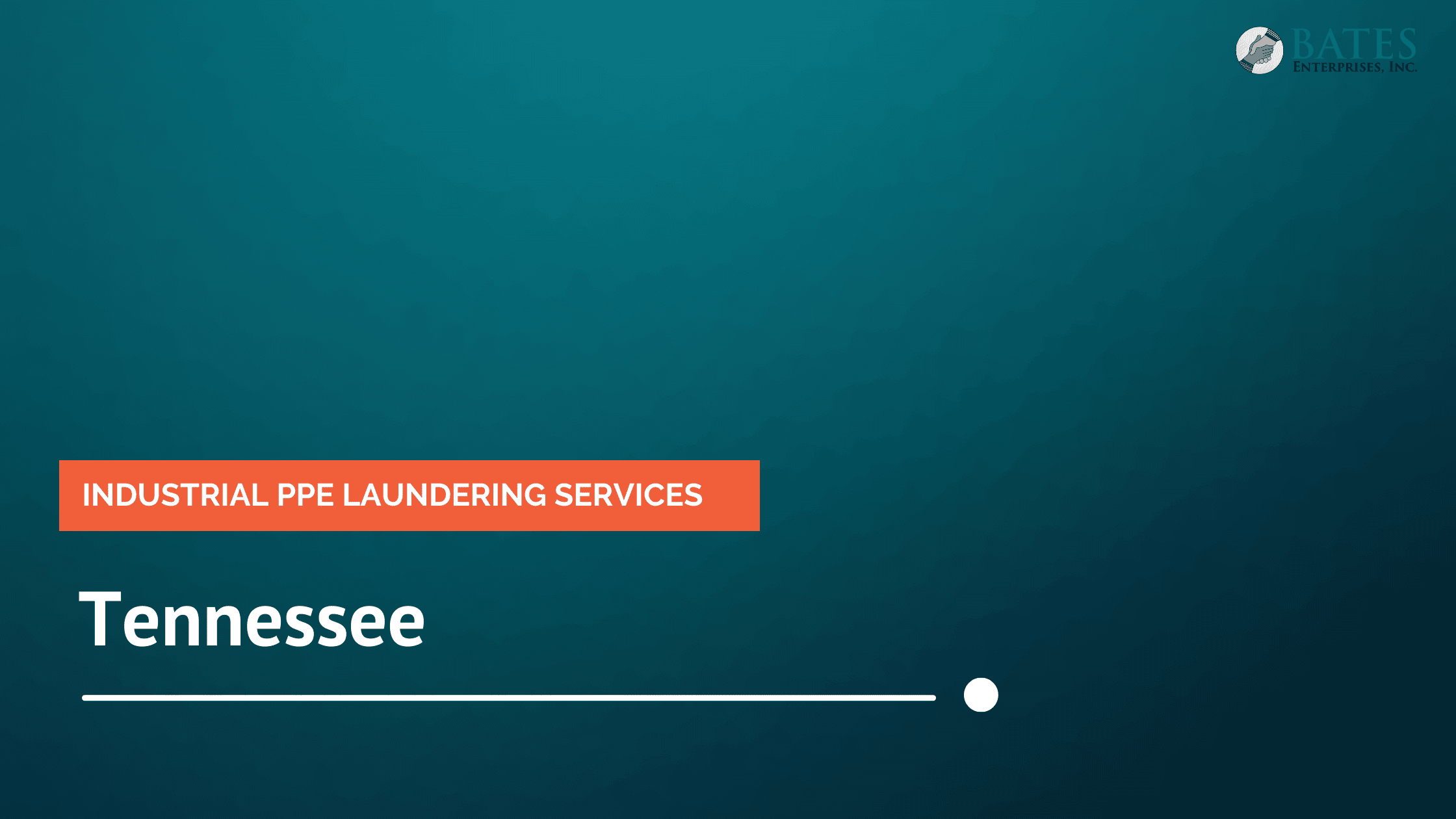 Industrial PPE Laundering Services in Tennessee
The great state of Tennessee is full of nature, a thriving music industry, and delicious comfort food. With these booming industries, businesses in Tennessee are flourishing. But with a bigger economy comes a bigger responsibility, especially when it comes to sustainable practices surrounding your team's personal protective equipment (PPE). As your business grows, it's important to think about improving your bottom line and evaluating your environmental impact.
Bates Enterprises is here to help you protect your employees with state-of-the-art industrial PPE laundering services that we fully customize to meet your company's needs.
Completely Restored PPE
After being used every day, even the brightest-looking PPE can start to lose its integrity. A lot of dirt, grease, and grime can build up easily, making the PPE unsafe to wear in the workplace. For many companies, the only option to consider is ordering replacements, but that's simply not cost-effective. Your PPE can be restored and preserved if you entrust it to our laundry service.
Your PPE will be looking good as new and will be safe to wear in the workplace until the next clean, and it won't cost you anywhere near as much as it would to have it replaced.
Unique Washing Formulas
We recognize that not all equipment can be treated the same.
Simply applying the same formula to all PPE is going to leave a mark, and it could wash away important branding or colors. Our unique washing formulas and customized washing cycles ensure that your products are returned to you looking better than before. In fact, by opting for high-standard laundering services, you can save up to 85% on the cost of new PPE.
Years Of Experience
We're not your average laundry company! We've got years of experience behind us to guarantee a satisfying service. Bates Enterprises was founded in 1995, and we've been honing our craft ever since. That experience will show in the service we provide you, which is not something other laundry companies can offer. With over  two decades of experience, Bates Enterprises has perfected a proprietary, clinically-proven 4-step formula that cleans and sanitizes each PPE item to improve your bottom line.
Services Designed With Your Bottom Line In Mind
A business's bottom line certainly focuses on profits, but it also impacts the local communities and environment. Since its humble beginnings over 25 years ago, Bates Enterprises has focused on delivering laundering and recycling services that can improve your company's bottom line by lowering PPE costs. With just a small investment, you can easily lower the amount you are spending on PPE each year with our recycling and laundering services.
With Bates Enterprises, you can be confident that your personnel will always have high-quality protective equipment available while also protecting the environment and saving your company money.
Request a Quote for PPE Laundering Services from Bates Enterprises!
Bates Enterprises is committed to helping your business find a PPE laundering solution that meets your highest expectations. Discover the best industrial PPE laundering packages for your company by calling us at (256) 596-8667 or requesting a quote today!