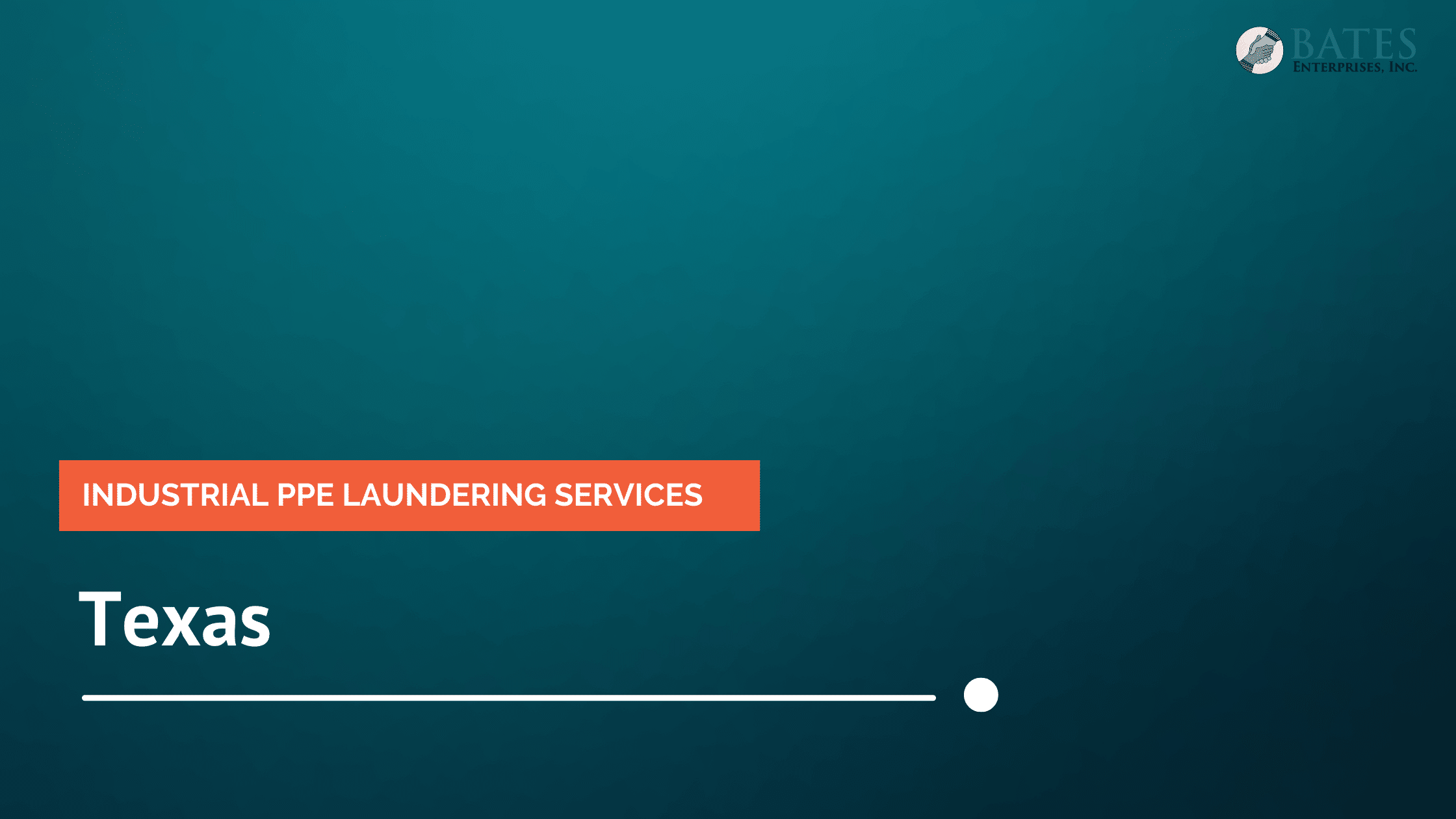 Industrial PPE Laundering Services in Texas
Bates Enterprises specializes in professional, affordable, reliable, eco-friendly industrial PPE laundering in Texas. Bates Enterprises delivers cost-effective, targeted solutions to a vast range of clients across multiple industries. 
Businesses across all industries in Texas utilize PPE. The cost of buying PPE and replenishing stocks has soared in line with increased demand. Professional industrial laundering services from Bates Enterprises offer an alternative to purchasing new items saving businesses money and stress. 
Next-level industrial PPE laundering in Texas
Bates Enterprises has extensive experience in industrial laundering. The team understands the unique challenges each client faces and is well-versed in overseeing large-scale operations. Industrial laundering is a logistical feat. At Bates Enterprises, the efficient team launders tons of PPE daily, providing companies with next-level services at affordable prices. 
Customized PPE laundering plans to suit your company
One of the significant advantages of partnering with Bates Enterprises is gaining access to customized PPE laundering plans in Texas. We go above and beyond generic, one-size-fits-all solutions to deliver incredible results for every client. 
With a customized PPE laundering service, customers enjoy the following benefits as standard:
1. Targeted, Client-Specific Solutions
We recognize that every client is different and that each industry has unique challenges to overcome. We tailor and customize laundering plans to cater to the needs of each customer. Our experienced team knows what it takes to achieve results across all industries and sectors. 
2. Reduced Costs
PPE laundering provides an alternative to replacing supplies and buying new stock continuously. Prices are high, and the cost of supplying employees with PPE has soared in recent years. Customized servicing plans offer companies the opportunity to reduce the cost of PPE in the long term. 
3. Reliable supply
Sourcing PPE has been a challenge for many organizations in the past. Laundering services help company owners and warehouse managers enjoy peace of mind by guaranteeing a reliable equipment supply. 
Why choose Bates Enterprises for industrial PPE laundering in Texas?
Bates Enterprises is the partner to trust if you're looking for reliable industrial laundering in Texas. Here are some of the key advantages of choosing us for all your PPE laundering needs:
An experienced and knowledgeable team capable of handling large-scale operations

Industry-specific solutions

Customized service plans that cater to the needs and preferences of the client

Cost-effective, eco-friendly services

Outstanding customer service

Unique wash cycles that are tailored to the requirements of every client

High-quality services that protect and enhance the quality of PPE
Looking for PPE laundering in Texas? 
Are you on the hunt for the best industrial PPE laundering services in Texas? If so, why not get in touch with our friendly team today? We will be happy to provide you with more information about industrial laundering and our customized service programs and answer any questions you have.
Call us, email us or submit an inquiry online, and we'll get back to you as quickly as possible.